STYLE + ALL THE HEALTH BENEFITS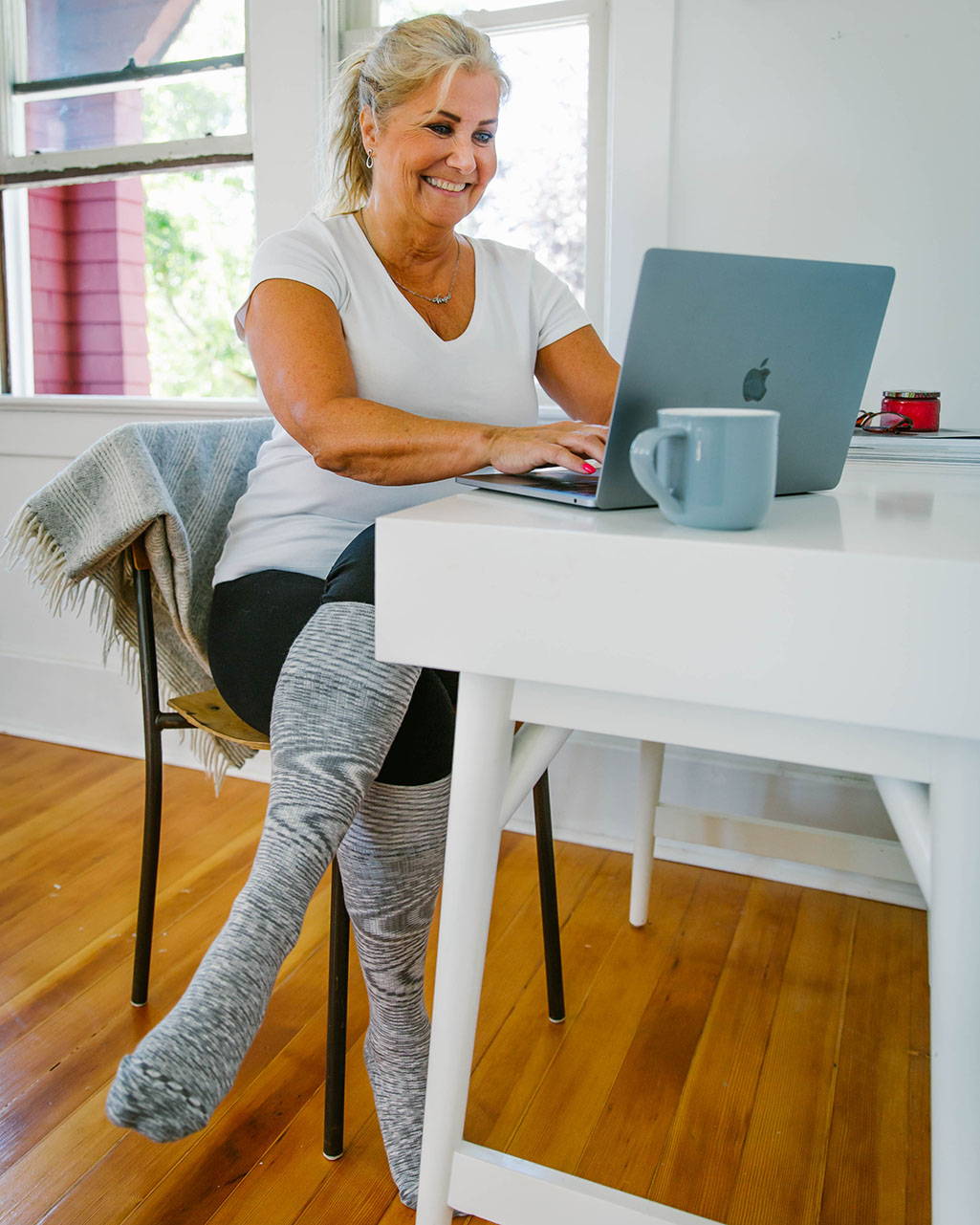 How Compression Socks help with Circulation
Studies have shown that blood flow in the lower legs can decrease up to 50% after just 60 minutes of immobility. This results in increased pressure in the veins of the lower leg as blood fights against the force of gravity when returning to the heart. We see this increase in pressure on the surface of the skin as varicose and spider veins, and feel the pressure as our legs begin to swell and that dull aching pain sets in.

Graduated Compression Socks work to gently squeeze your legs in a way that helps promote blood flow from the legs back towards the heart. By increaseing circulation, they help reduce pooling of blood in the lower legs and feet which causes swelling.This also relieves pressure on the veins which can cause varicose veins and blood clots.
Some Factors Affecting  Circulation
• Standing or sitting for extended periods of time
• Any type of travel lasting 4+ hours 
• Pregnancy & Post-Partum 
• Birth Control Pills & Hormone Replacement Therapy
This is why it is important to wear compression Socks at work, while traveling and during pregnancy.
WHAT CUSTOMERS ARE SAYING   


"These are the most comfortable and stylish compression socks ever! I have tried a few others before ordering from Dr. Segal's, and these are honestly the best- look and quality wise! Will be ordering more in the future for sure. "

"These compressions socks are giving me life right now. Not only are they cute and stylish; they actually really do alleviate leg pains! If you're currently pregnant like me and sit in front of a computer all day, get yourself a pair!"

"I've been a nurse for 5+ years and have struggled to find compression socks that are comfortable, cute, and work for me. These socks are not only cute but they are breathable, non-itchy, and after wearing them for a few hours I forgot they were even on! Once you try Dr. Segal's nothing else out there compares."

"Love the fun colors compared to typical compression socks, which leave much to be desired in terms of color. More importantly, my legs felt less tired after a 21hr flight from NYC to Melbourne. I didn't have the usual swollen ankles."

"The best socks I have ever used. Right size, perfect compression, very comfortable and the feet do not stink like with most synthetic materials"
Boost Circulation & Leg Energy with one of our stylish designs.
Feel the difference - your feet will thank you!