You don't need to be diabetic to love Dr. Segal's Diabetic Socks
Posted by KELSEA FRANZKE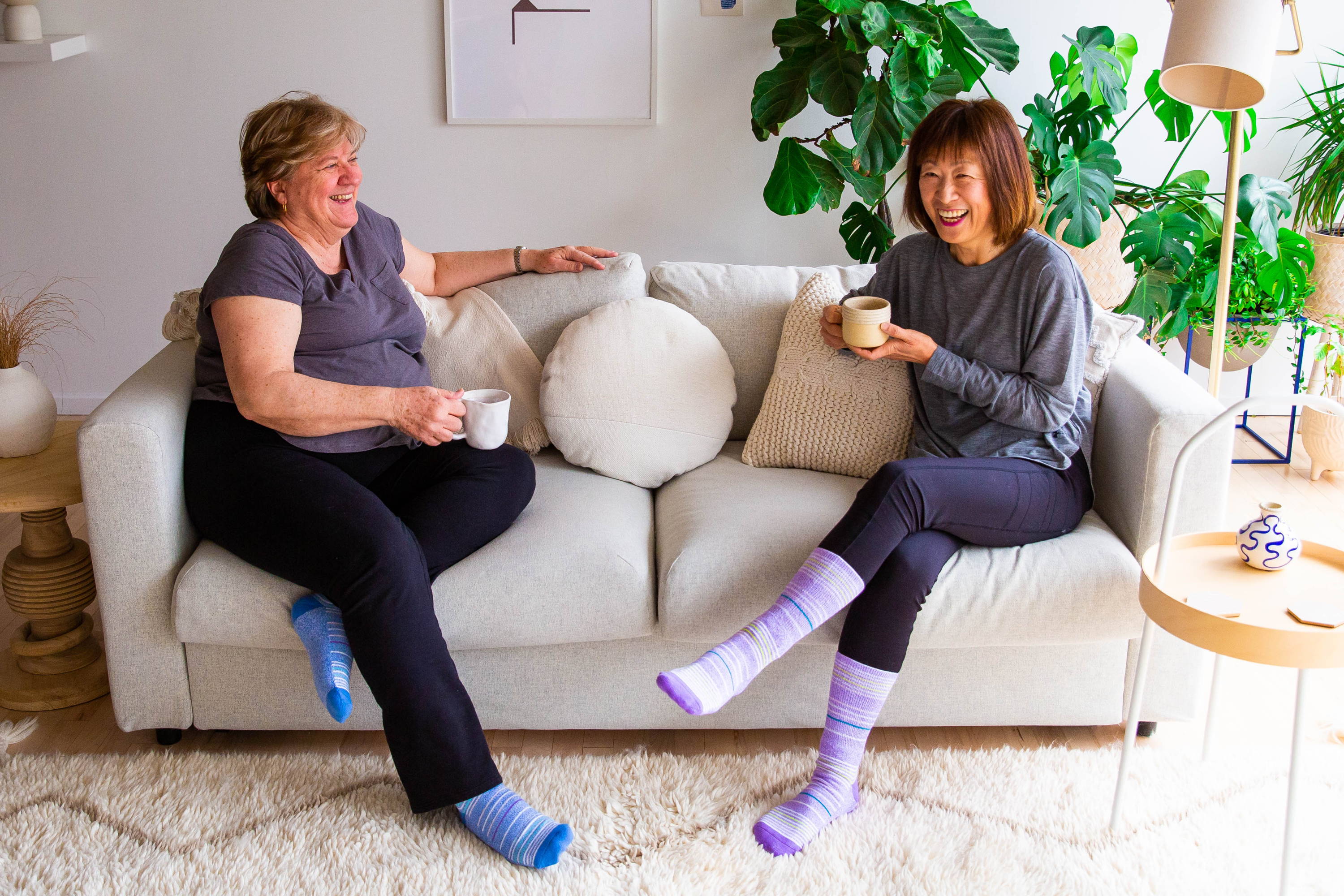 Think Diabetic Socks are only for diabetics? Think again! 
Dr. Segal's Diabetic Socks are the most comfortable socks on the market and they come in so many fashionable patterns and colors. And don't just take our word for it. Keep reading to see just a handful of customer reviews stating how great our Diabetic Socks are! 
Since Diabetic Socks are designed with special features, they are far more comfortable and beneficial than regular socks. It's really no surprise that people who don't have diabetes love to wear them as well.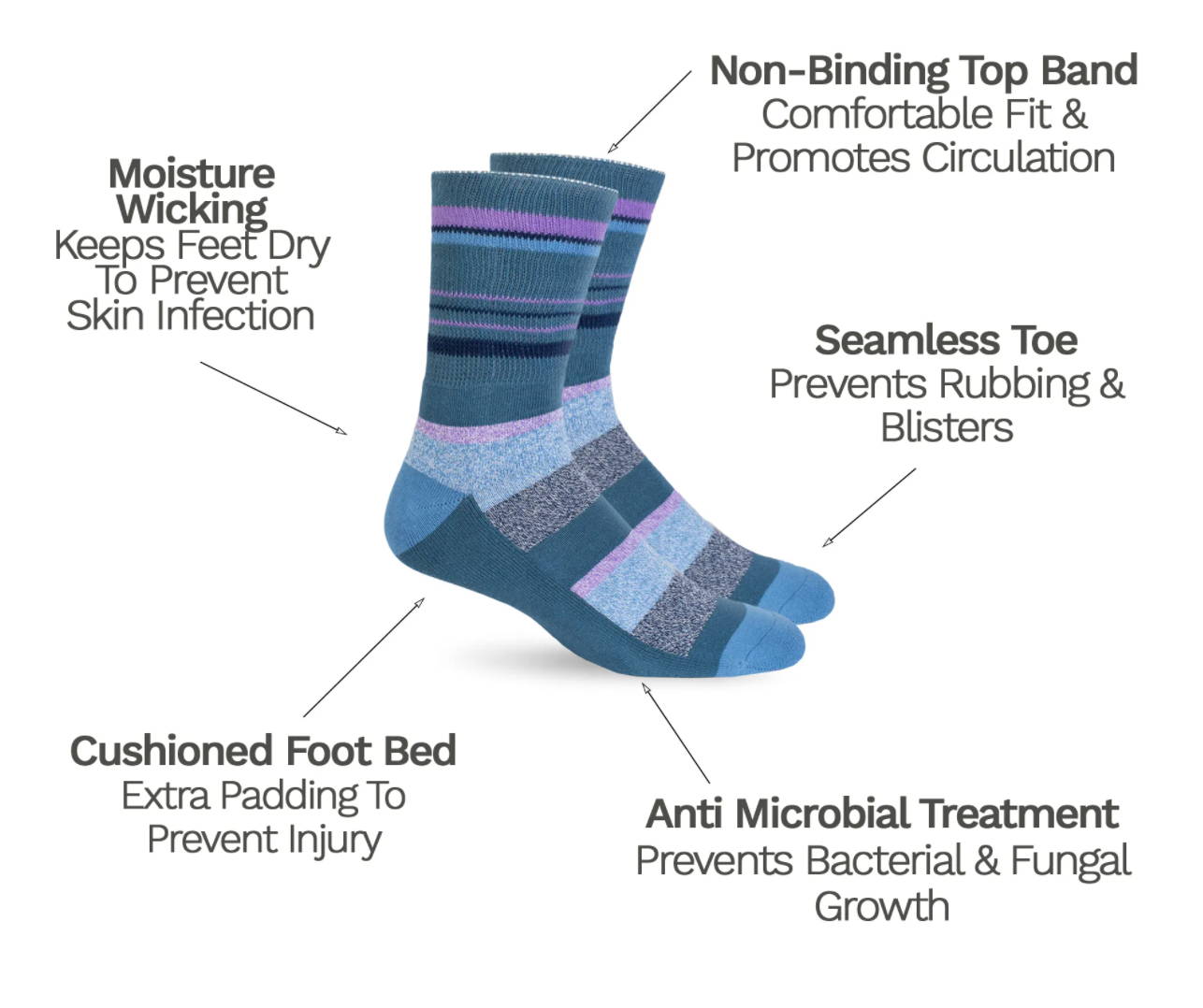 - Moisture wicking technology to keep your feet dry and premium cotton for natural breathability
- Cushioned footbeds that give extra padding and prevent injury
- Antimicrobial treatment to prevent bacterial and fungal growth
- No seams on the toes to prevent rubbing and blisters from occurring
- Non-binding top bands that fit comfortably and promote circulation
- 80% Cotton, 13% Polyester, 5% Rubber and 2% Spandex. That's right, they're latex free!
"I don't have diabetes and my ankles are not even fat. So why would I need diabetic socks? Because they're not tight and uncomfortable like standard socks and they don't squeeze my ankle and leave a tight band around them. These socks have just the perfect cling to stay up and feel so comfortable and do not leave that indentation on my ankles at the end of a day. Thank you!" 
- Robin M
Now that you know about the features of Diabetic Socks, here are just a few examples of non-diabetic people who can benefit from wearing them:
1. Anyone with wide ankles and calves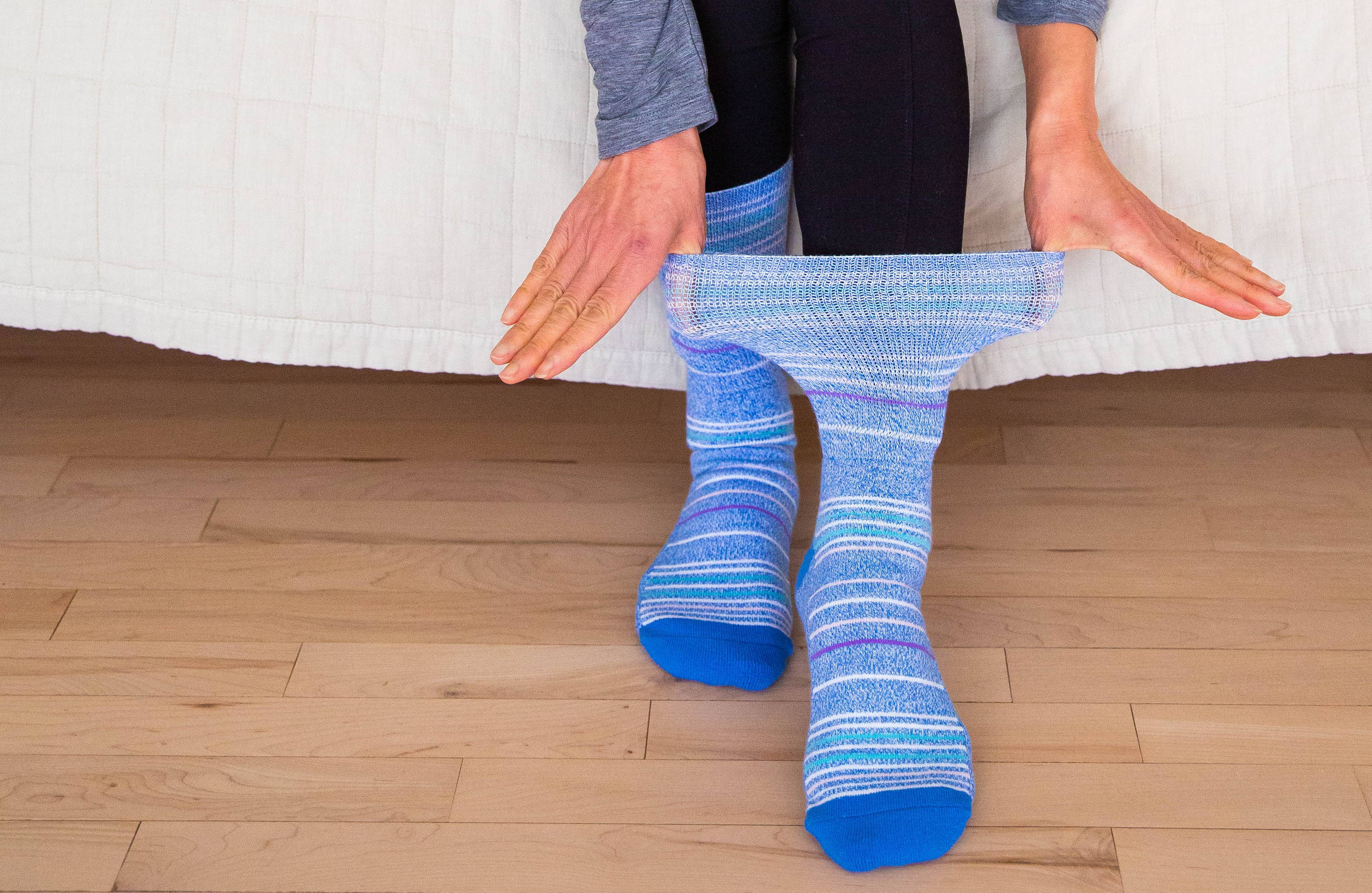 The non-binding top bands on Dr. Segal's Diabetic Socks ensure that the circulation in your feet and ankles do not get cut off. Say goodbye to uncomfortable indentations left on your skin!
"I love these socks! They don't make dents in my ankles after wearing them all day. Not too thin and not too thick… just right! Thank you for making them!" - Ann M.
2. Anyone with skin sensitivities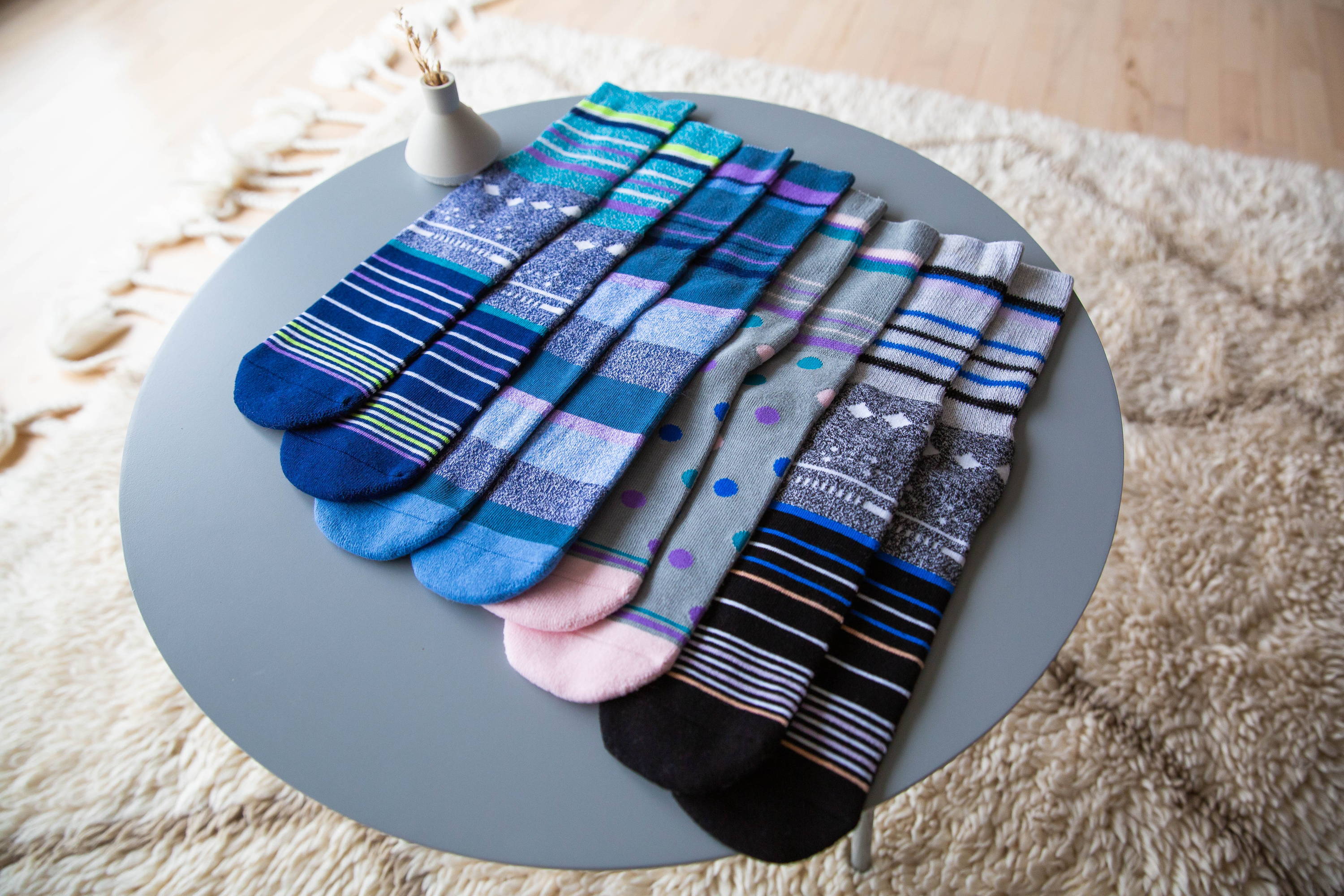 If you experience sensitivity and chafing around your ankles, Dr. Segal's Diabetic Socks for men and women can offer relief due to their non-binding comfortable top band that doesn't rub the skin. The antimicrobial treatment in Dr. Segal's Diabetic Socks also prevents bacterial and fungal growth which is ideal for anyone with skin sensitivities.
"They feel great. Not tight around the ankle. I am not diabetic but I love that the socks feel so good and are always comfortable. Bought more and will get rid of my other socks!" - Sandra W.
3. Anyone with sensitive toes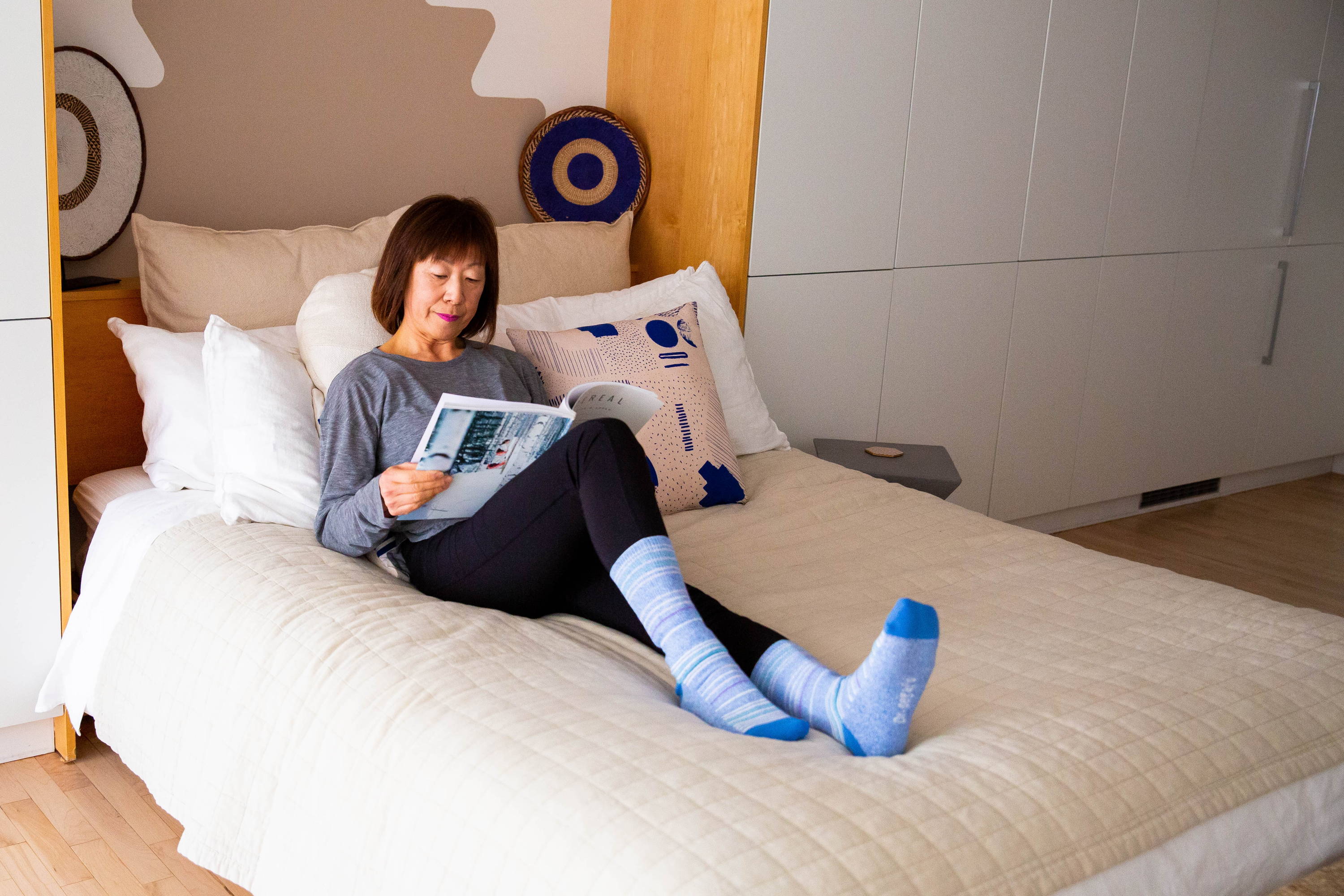 If you experience sensitivity on your toes from the seams in regular socks you will love Dr. Segal's Diabetic Socks as they're designed without a toe-seam to prevent rubbing and blisters.
"Not only did my feet feel hugged in the right places by the slight variance in thickness, but I was amazed by the complete absence of foot pain. Pressure points inside shoes are virtually eliminated. Foot sizing is accurate and there are no lumpy seams or extra toe fabric to cause grief. These socks have made my enjoyment of many activities that much greater. I will be trying more Dr. Segal's products in the future." - Conny S.
4. Anyone who loves cozy socks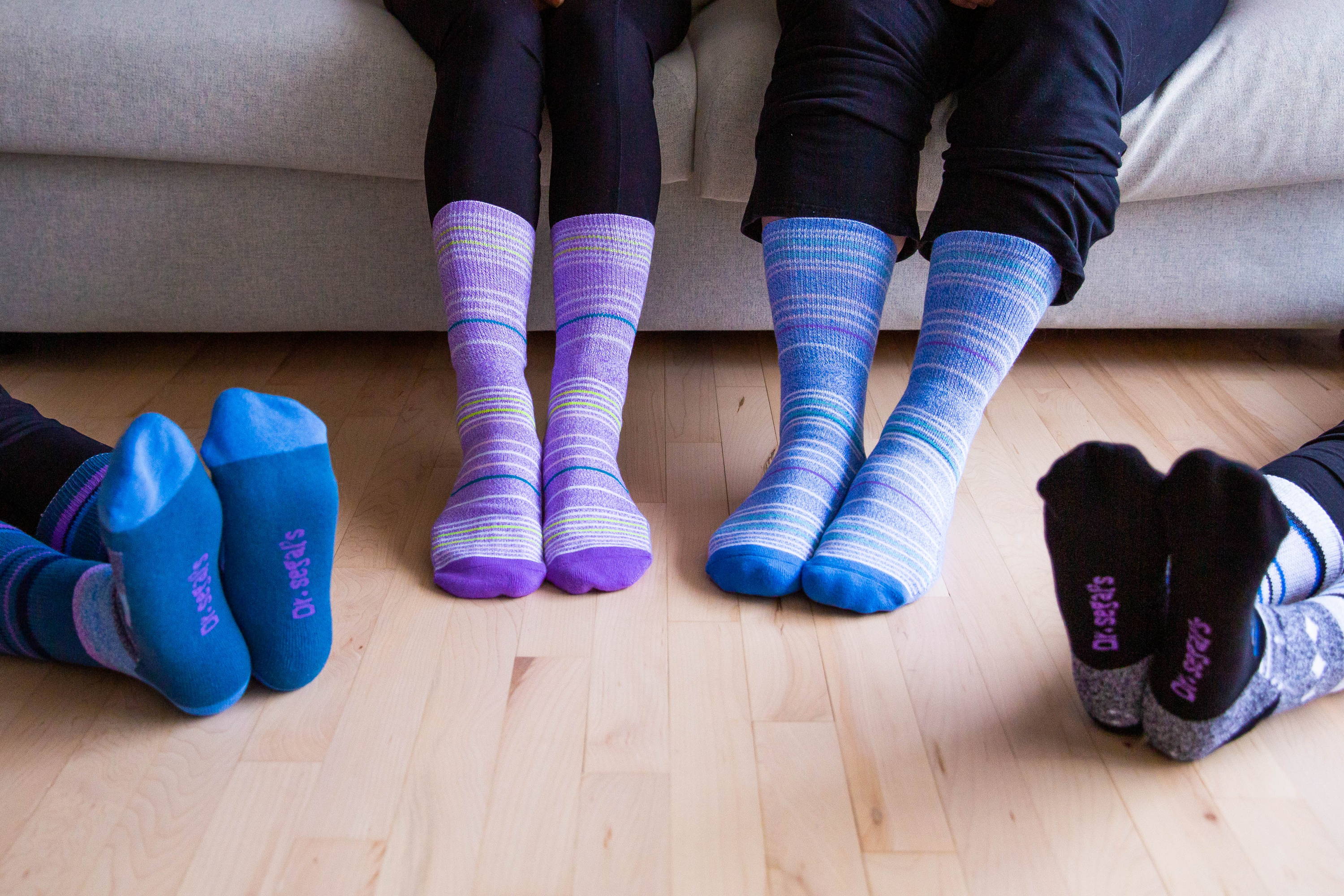 The cushioned footbeds of Dr. Segal's Diabetic Socks for women and men add that extra padding needed to enhance the feeling of comfort. Many other socks that are warm and cozy often lead to sweaty feet, but this doesn't happen with Dr. Segal's Diabetic Socks due to their premium cotton moisture-wicking technology. 
"Fantastic socks! Very comfortable and thicker than expected, but still non-binding. Have bought 3 more pairs." - Diane H.
Still not convinced that Dr. Segal's Diabetic Socks are the most comfortable socks on the market? Try a pair for yourself today!
Browse our stylish designs