9 Tips for working from home
Posted by KELSEA FRANZKE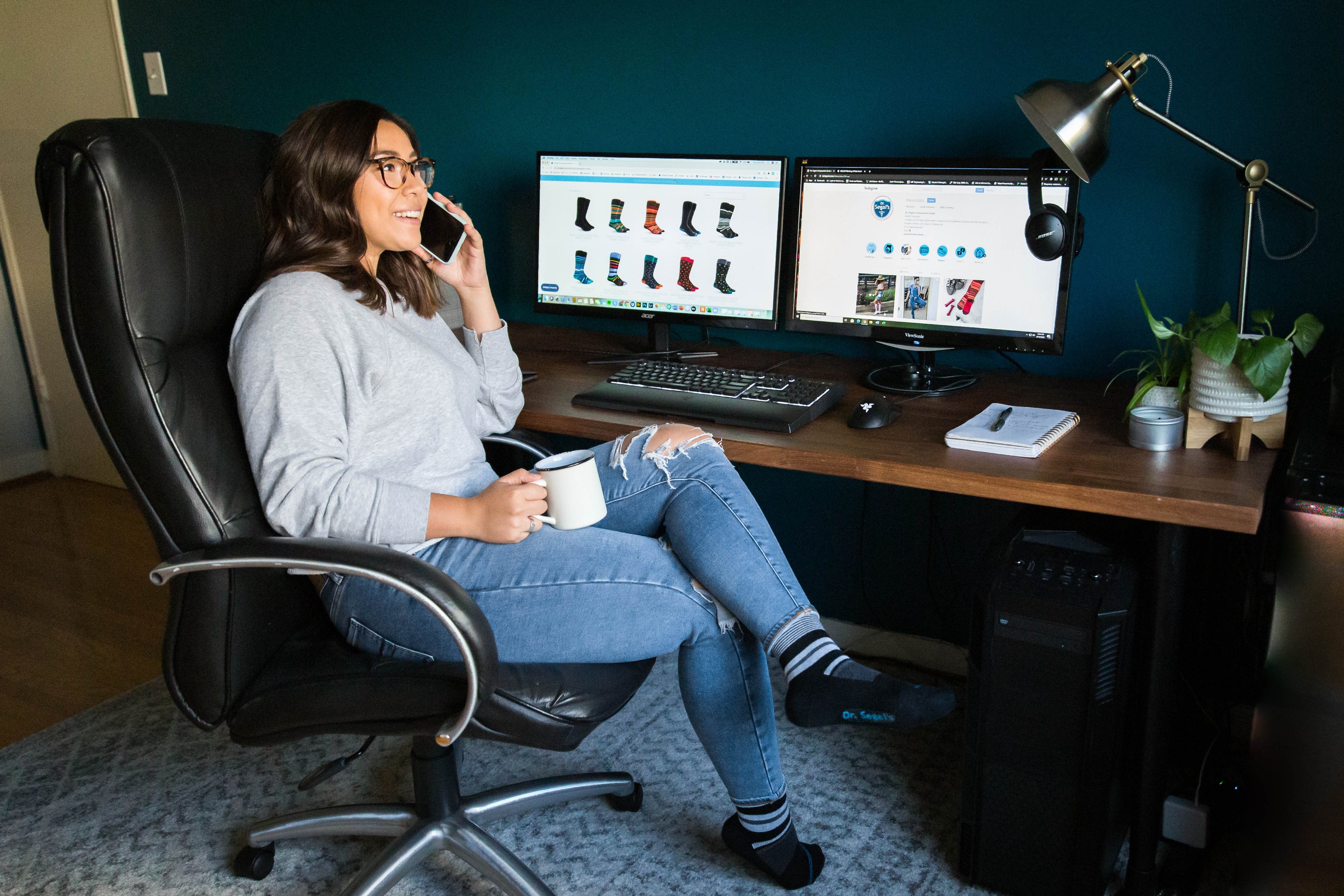 COVID-19 has turned everything upside down. Our regular schedules have changed, the way we travel has been impacted, and the way we work is entirely different. Our team has shifted entirely to working from home, which has definitely had its ups and downs!

Now that we've been working from home for a few months and have settled into this new "normal", we're reflecting on what helped us transition from working in an office environment to working at home. 
Our marketing team has broken down their must-haves for working from home, along with a few tips and tricks to making it through the day! And while we may have different work-from-home styles, one thing that we can all agree on is that wearing our Dr. Segal's Energy Socksare an absolute MUST to keep our feet and legs feeling comfortable and energized!
KELSEA - SOCIAL MEDIA MANAGER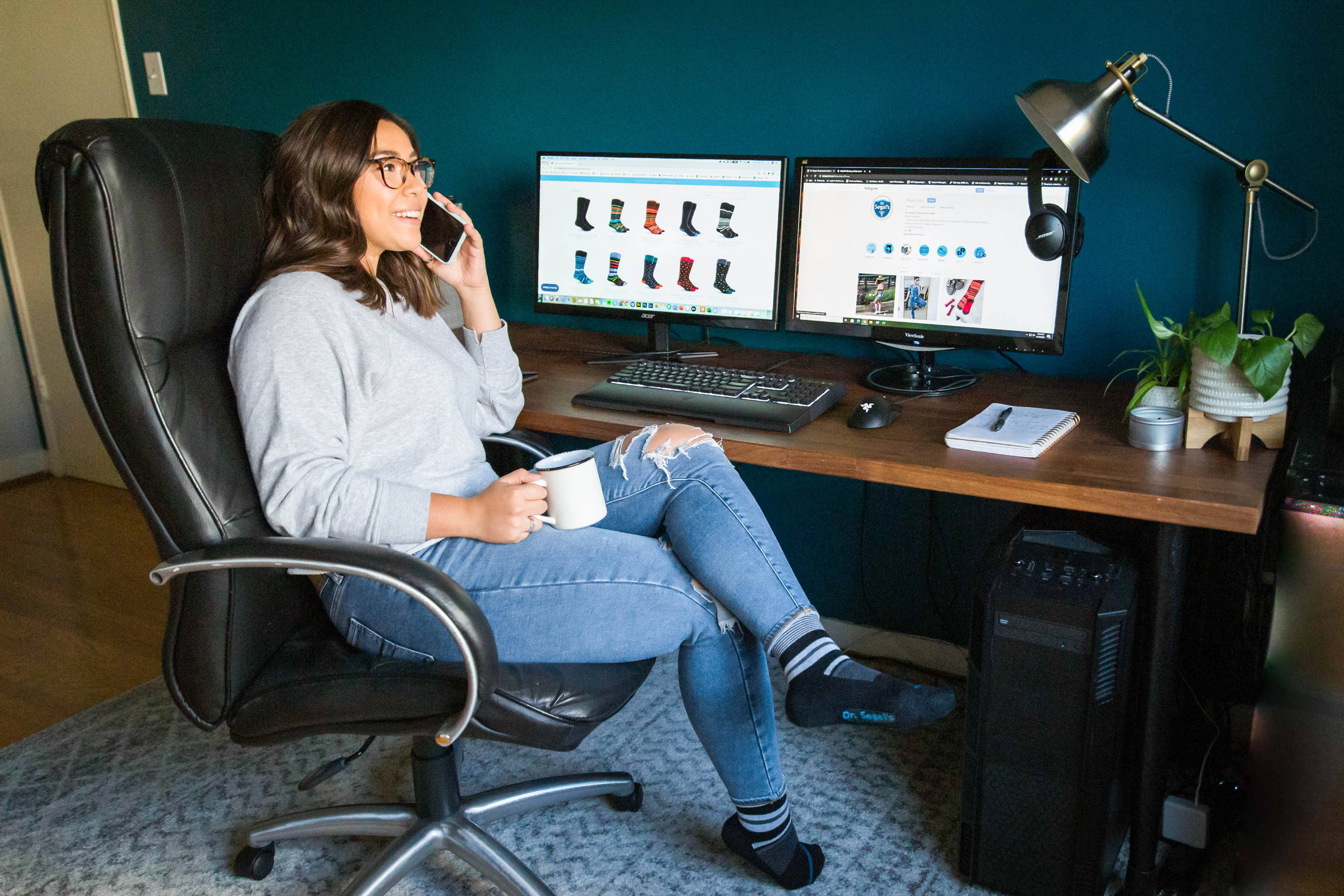 Before COVID, I was used to working from home a few days each week. I do some freelance work, so my schedule is usually all over the place! However, transitioning to being home 100% of the time was a challenge. In the beginning I felt drained by the constant Zoom calls, and often felt distracted by those around me. Now it's been a few months and I've established a schedule and routine that works for me! 
Here's a short list of my work-from-home tips and must-have products:

Blue-Light Blocking Glasses - Like many of you, I stare at a computer screen all day, every day. By the end of the day I would often experience headaches, and my eyes would feel dry, strained, and I felt an overall discomfort. Now I make sure to wear my prescription glasses with a blue-light blocker on them, and not to be dramatic, but they've been a life-saver! My eyes still feel fresh at the end of the day, I find I fall asleep more easily when I wear them, and even my posture is better because I'm not leaning towards my screen to see things better!

Noise-Cancelling Headphones - It is so easy to get distracted when you're working from home. Not only is it possible to grab your laptop and just work on the couch (aka turn on Netflix in the "background"), but the sounds from neighbours, traffic outside, and your roommate or partner can be incredibly distracting if they're also home. Noise-cancelling headphones have really been integral to helping me stay on task! I use Bose QuietComfort headphones and I love that they block out all of the white-noise around me. I also find that when you're working with headphones on, it says to others, "Leave me alone, I'm busy!" - yet another distraction-reducing tactic! 

Set your schedule - It's important to set boundaries when you're working from home so your work doesn't completely take over your life. Similarly to when you went to work in your office, set a general time to clock-in and clock-out. Talk to your coworkers and let them know the hours you're working, and most importantly, stick to this schedule! Of course there can be wiggle-room if urgent matters come up, but establishing boundaries around your schedule will make it easier for you and your team in the long run. 
ELENA - MARKETING COORDINATOR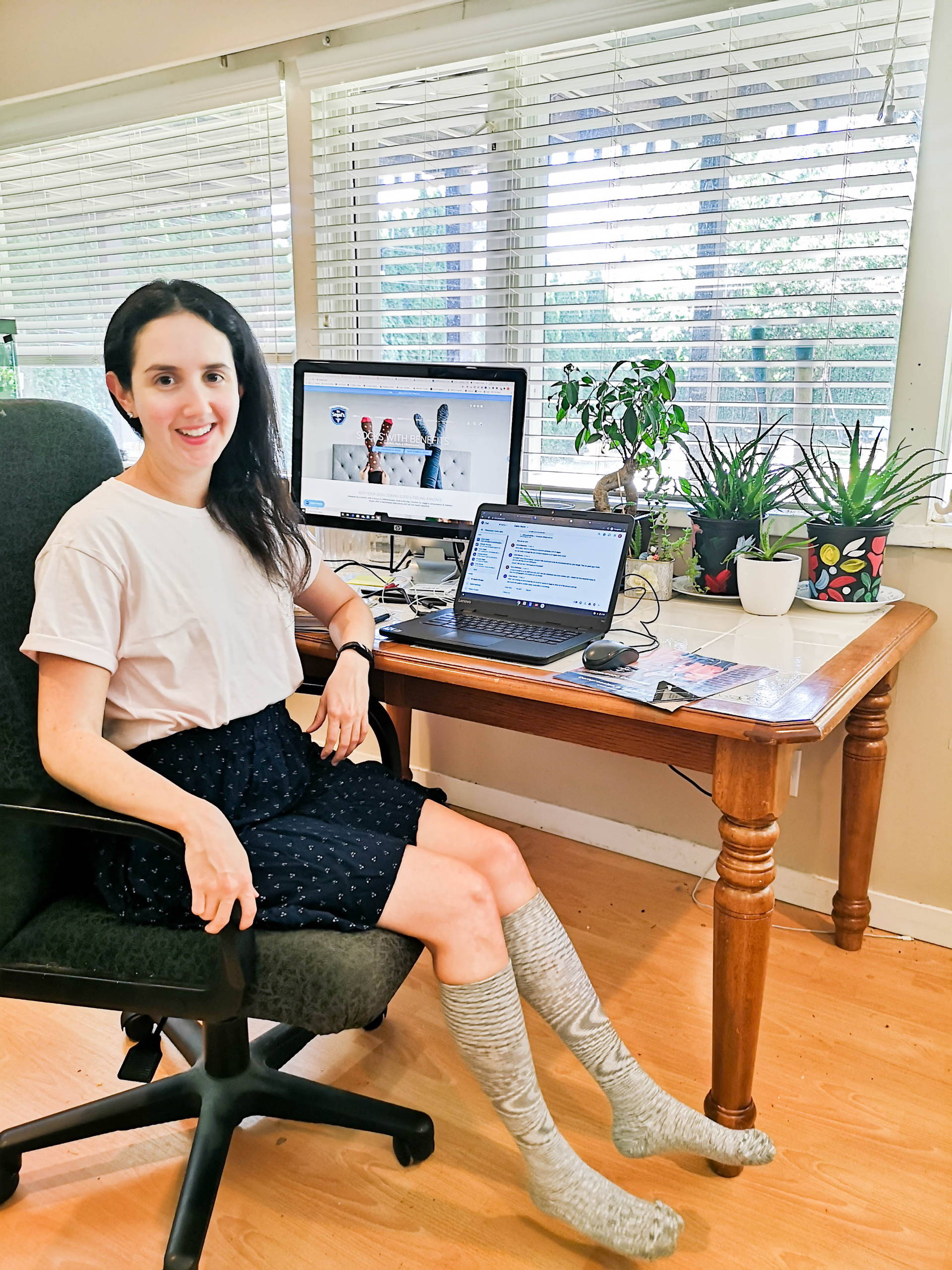 My working from home situation might look a bit different than some. Living in a house with 5 other roommates - most of whom also work from home - can be a bit hectic. Luckily, we all have our own working spaces and respect each other's schedules. 

As time goes by, I am getting increasingly comfortable working from home, having Zoom meetings, and having to navigate through my day-to-day tasks remotely. Not to mention, I am loving my new commute - you really can't complain about rolling out of bed and heading downstairs in comfy lounge clothes! Here are some of my work from home tips:
Create your own work space - It's important to have a dedicated workspace to keep on task and minimize any possible distractions. Since the beginning, I have tried to keep my workspace separate from where I sleep or relax to make sure I can mentally differentiate my time working from my personal time. I would suggest that in the morning, you set up your workspace on your kitchen table or wherever it may be. And then at the end of the day, physically remove your laptop and anything that you need for work and put them away. Having a dedicated work space makes it easy to step away from work at the end of the day. My work space has a nice view of the garden and I love all the natural light! 

Take breaks - Going for a walk or a bike ride after work is a great way to get some fresh air and get out of the house! Staring at a screen for 8+ hours of the day can take a toll on your ability to focus and work effectively. I like taking breaks to stretch my legs by walking around our garden to refresh my brain. Our quarantine project was planting lots of plants and veggies, so I love checking on their progress. I also always make sure to grab lunch or snacks whenever needed. It's almost impossible to concentrate when your stomach is growling!

Keep open communication with team members - It's a lot easier for misunderstandings to happen when you're not working in person with your team. You can't just ask questions or provide feedback when you see someone in the lunchroom anymore. We've started using platforms like Asana for project management, Google Hangouts to touch base throughout the day, and video chats to have conversations that are more complex. A video chat is the next-best option to a face-to-face conversation!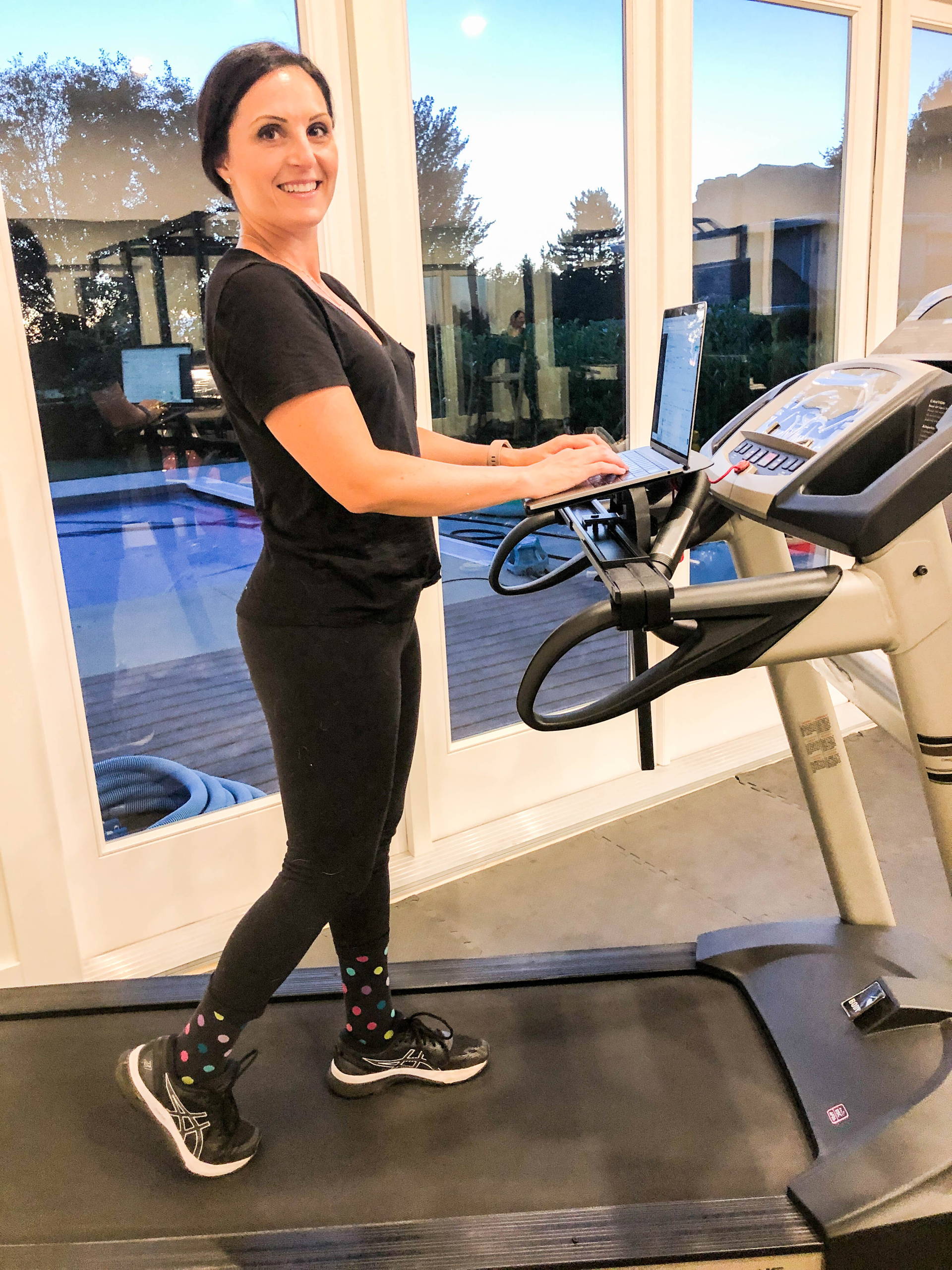 As the only mom on the Dr. Segal's Marketing team, my days look a little different compared to everyone else. Managing work while the kids (plus two dogs) are at home is almost an impossible task some days, but I'm getting used to the multi-tasking! Here are a few of my work-from-home tips:
Get dressed every morning - It might be tempting to just roll out of bed and start working, but it's important to get dressed every morning. Not only does this signal that it's time to wake up and start the day, but you never know when you'll get that surprise Zoom call! I wear my Dr. Segal's Compression Socks every day to keep me feeling comfortable and energized throughout the day.

Separate and organize your tasks - It's hard not to get distracted by everything going on around you when you're working from home. I always have a to-do list of chores and errands to take care of, and those thoughts about home-responsibilities tend to creep into my mind throughout the day. To combat this I prioritize my day and multi-task. I figure out what tasks outside of work are the most important, and tackle them one by one. For example, try changing the laundry over when you're taking a quick break from work, or get a walking desk to keep your body moving while you work. Multi-tasking is easy once you break it up into small tasks!

Schedule regular check-ins with your team - Having regularly scheduled video call meetings really help with communication and socialization. We're able to discuss our goals for the week, go over any outstanding tasks, and it's nice to actually see people's faces! We also communicate over Google Chat and touch base over the phone for quick conversations. Keeping the lines of communication open has been very important for us to maintain some kind of normalcy within our team!
Do you have some great work-from-home tips that we haven't covered? We want to hear them! Leave us a comment or reach out to us on Instagram @thesockdoc!