Can Wearing Compression Socks be Harmful?
Posted by SIMON LIM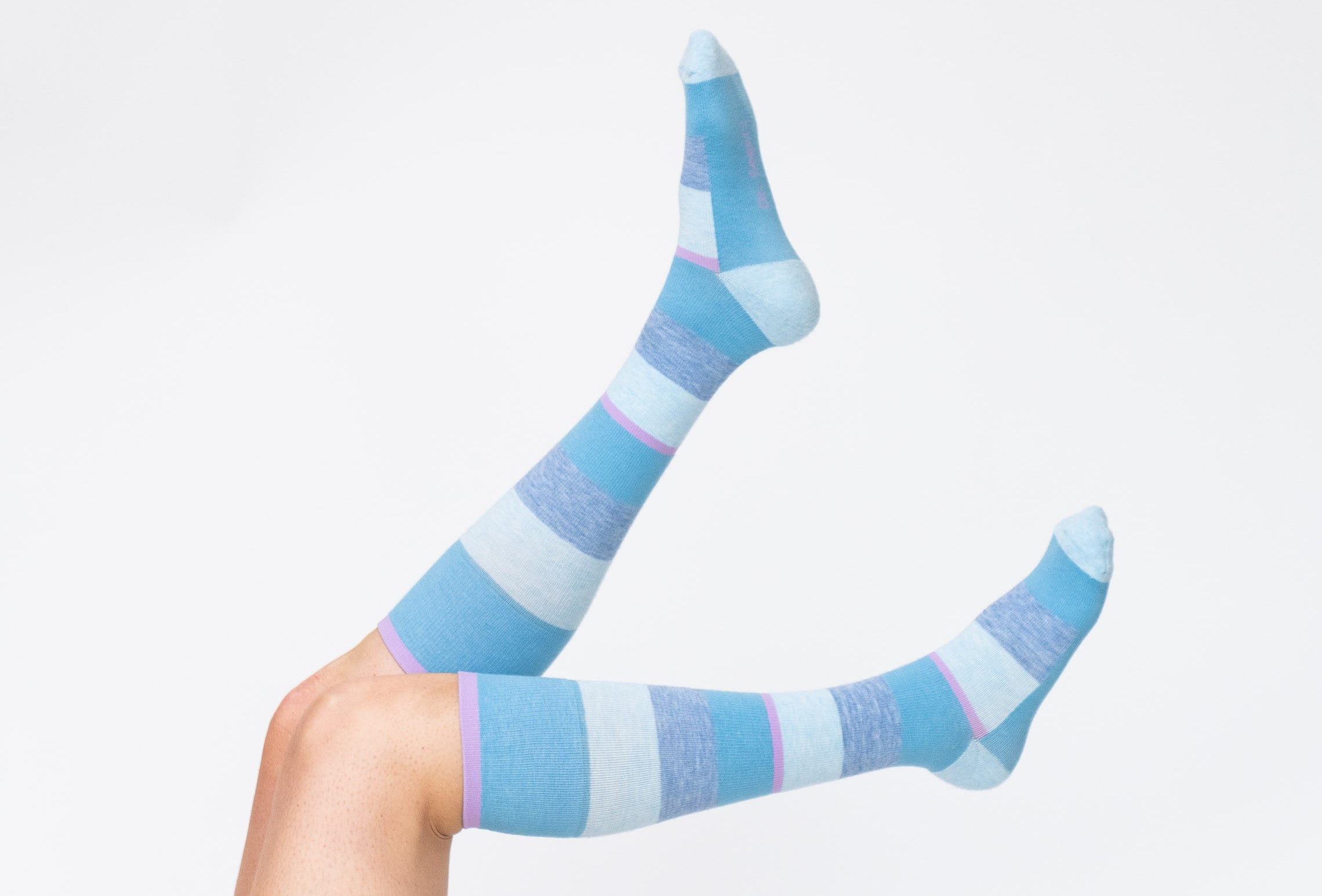 Compression socks are a popular accessory for athletes and people who have to be on their feet all day. They help improve circulation and prevent leg fatigue. But is there such a thing as too much of a good thing? Can wearing compression socks be harmful? Let's dig deep into this.
The Truth About Compression Socks
Compression socks are snug-fitting socks that apply pressure to your lower limbs. The gentle compression helps boost circulation. The action improves blood flow from the extremities back to the heart. Compression socks also aid to reduce leg fatigue and it helps prevent blood vessel issues such as varicose veins and deep vein thrombosis (DVT).
Can Compression Socks Be Harmful?
Compression socks have become a popular way to help improve circulation. They help address various foot- and leg-related issues. But keep in mind that compression socks are not a one-size-fits-all solution. 
Compression socks are generally safe for most people when used as directed. However, there are instances when compression socks can do more harm than good:
Compression socks that are too tight
Wearing compression socks that are too tight can cut off circulation. This is the opposite of what you're trying to achieve. If your socks feel too tight or constricting, take them off and choose a different size or style.
Compression socks that are too loose
If your compression socks are too loose, they won't be effective in improving circulation or preventing leg fatigue. Make sure to choose a pair of socks that fit snugly without being too tight or loose.
Wearing compression socks all the time
It's essential to give your feet and legs a break from wearing compression socks. You may experience skin irritation or other problems if you wear them all the time. Try to take a break from wearing them every few days or as directed by your doctor.
Compression socks not worn correctly
Your compression socks can bunch up and cause irritation. They can even damage your skin when not worn correctly. Make sure to follow the instructions on how to put on compression socks properly.
Safest Ways to Wear Your Compression Socks
If you wear compression socks, it's essential to do so safely. Here are a few tips:
Make sure to choose a pair of compression socks that fit snugly without being too tight or too loose. If they are not the right fit, take them off and choose a different size. It's also important to get measured again if you gain or lose weight so that you can always wear the correct size.
Check your skin between each wear for changes like redness, bumps, dryness, and rubbing. If you notice any changes, take a break from wearing the socks until your skin has healed.
Be sure to wash your socks regularly. Sweat and dirt can irritate your skin. If you're wearing compression socks all day, you want to ensure they're clean. The best way to wash compression socks is by hand, using mild soap and cool water. It would be best if you also hung them to dry. This will help the fabric keep its shape and prevent stretching or changes in size.
It's essential to wear compression socks correctly to get the most benefit and avoid any potential problems. That means following the instructions from both your doctor and the sock manufacturer. Depending on your situation, you may be advised to wear compression socks all day or just during certain activities. You may also be told how much compression you need, which usually ranges from mild to firm
When choosing a brand of compression socks, look for ones that are comfortable and easy to put on. Make sure they're made of breathable fabric to reduce the risk of skin irritation.
Takeaways
So, can wearing compression socks be harmful? If they're not used correctly, they can worsen circulation and cause pain or irritation. Choose the right size, take breaks from wearing them, and ensure you wear them correctly. By following these tips, you can be sure that you're using compression socks safely and effectively. 
Additionally, choosing a reputable brand is also crucial. Dr. Segal's compression socks are specifically designed for comfort and efficacy. Made from a breathable fabric, Dr. Segal's compression socks are ideal for wearing during any activity. These socks can help you stay active and comfortable and because they're available in various sizes, you will surely find a pair that fits you well.