Camino de Santiago with Ruth Scowcroft and Nancy Friesen
Posted by HAYLIE SEGAL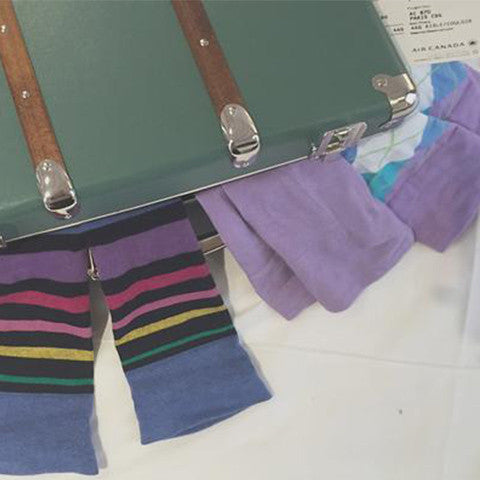 In April 2015, Nancy Friesen and Ruth Scowcroft walked the Camino de Santiago, a pilgrimage route that leads to the shrine of the apostle St. James the Great in the Cathedral of Santiago de Compostela. It is known to be a spiritual path that one walks in hope to find personal insight or enlightenment. There are multiple routes one can take to reach the Cathedral of Santiago; Nancy and Ruth began their pilgrimage in Saint-Jean-Pied-de-Port in southern France. Their chosen route was approximately eight hundred kilometers long and they planned to reach the Cathedral in thirty days.
On a Thursday morning in July, I sat down with Ruth at a café in her hometown of Tsawwassen, British Columbia to discuss how she managed this extensive pilgrimage. It turned out that her secret to success was compression socks. Having heard of compression socks and their health benefits for airplane travel, Ruth had brought a pair along when she and Nancy took off for the Camino. "I had them in my bag for on the plane," Ruth said. She did not think she would wear them on her pilgrimage.
"Our first day I walked in just regular socks. It was a long day and we were doing a lot of uphill and my shins were aching, and my calves were aching, and my feet hurt. I was carrying eighteen pounds on my back." A vast majority of pilgrims walking the Camino de Santiago wear large backpacks to hold their necessities. "We walked about twenty-three or twenty-four kilometers that day."
After the first day, Ruth's feet were already blistered and her lower legs were in "shin-splint type pain." However, the two pilgrims still had twenty-nine more days of walking before they reached the Cathedral of Santiago de Compostela. "I was actually thinking to myself," said Ruth, "oh my God, this pain keeps getting worse. What if this stops my walk?" The Camino de Santiago is meant to be a challenge, and Ruth was resilient enough to continue on the second day. "The second day I wore regular socks again and I was just aching the whole day."
It was not until the third day that Ruth had a revelation. "On the third day I thought, 'I've got those compression socks, I wonder if I should try wearing those to see if it makes a difference." What happened next is the reason compression socks are so important to bring with you while travelling.
"I put them on and the pain went away." The compression socks had completely alleviated Ruth of her leg pain, and they quickly became a Camino essential for her. "I wore those socks every single day of my entire walk. I had blisters, but I didn't have the pain in my legs anymore. 
Ruth Scowcroft (left), who wore compression socks for twenty-eight of her thirty day pilgrimage, with her friend Nancy Friesen (right) on the Camino de Santiago.